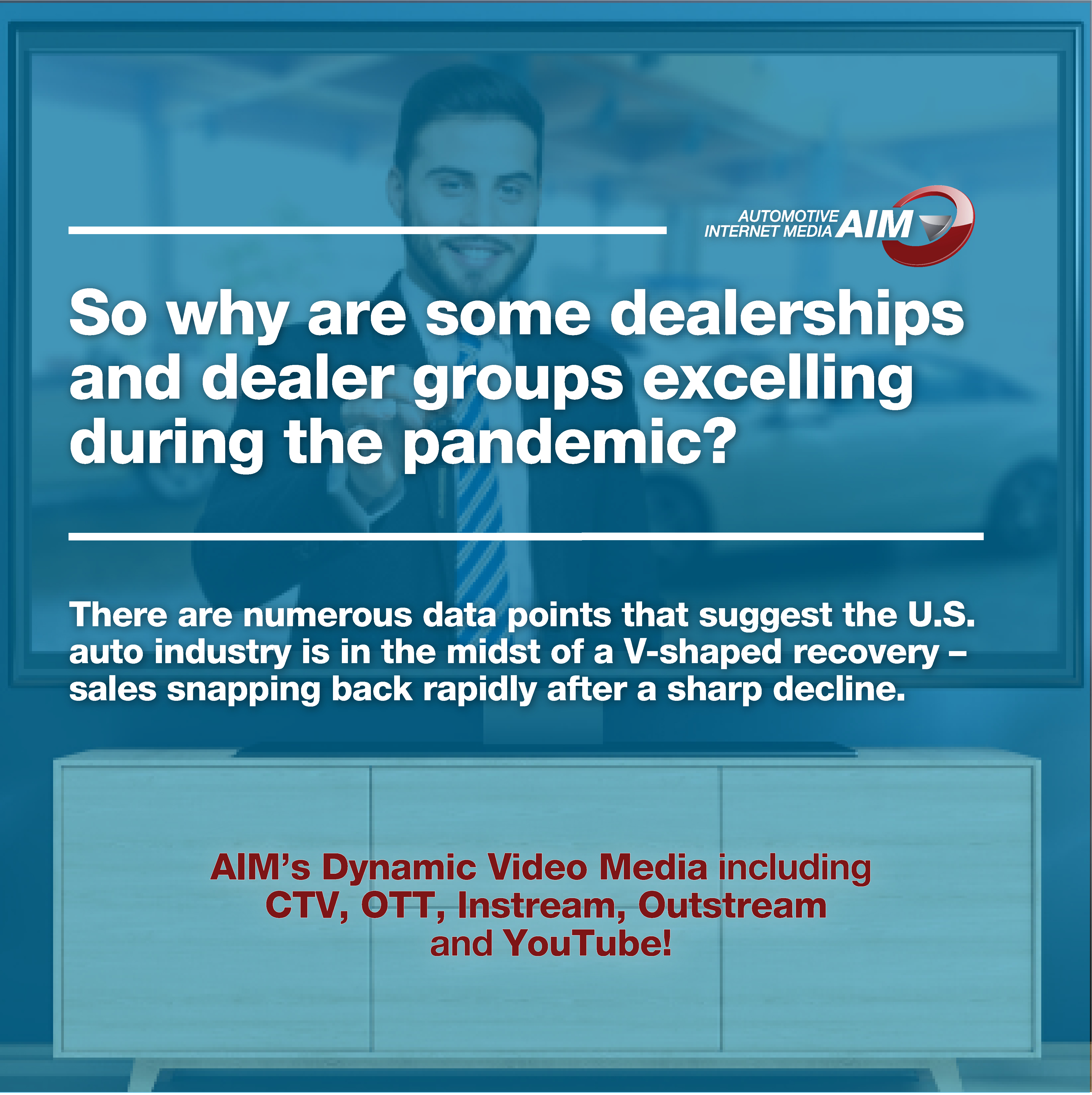 Connected TV Advertising in Automotive
In early March, when Covid-19 restrictions began locking people in their homes, many dealerships began to either cut or halt all marketing budgets. Was that the right thing to do? If you look, used car prices hit a record recently, in what can be described as a surprising development amid a global pandemic and falling new car sales. In June, the Manheim used vehicle price index hit a record, rising about 4% year over year, 7% compared with the May reading, and surging more than 16% compared with the April pandemic-induced low. There are a few reasons for the rise, which were a positive for all retail automotive stocks. PAG Penske Automotive Group Inc. GPI Group 1 Automotive Inc. SAH Sonic Automotive Inc. LAD Lithia Motors Inc. AN AutoNation Inc. There are numerous data points that suggest the U.S. auto industry is in the midst of a V-shaped recovery - sales snapping back rapidly after a sharp decline. New car sales are coming back strongly as well. After dropping from an annualized rate of about 16.8 million units in February to 8.6 million in April, sales hit 12.2 million units in May. Analysis believe annualized sales could top 14 million units in June. That would be a 67% jump from April lows. So why are some dealerships and dealer groups excelling during the pandemic? After a slight hesitation by almost all dealerships, which is normal because know one knew what we were facing, some operators made a decision to take advantage of whatever buyers were in the market. As Robin Williams would say, Carpe Diem - Seize the day. That's right, some dealerships made a conscious decision to win at all costs. Not to cut all their advertising expenses and wait it out, but to realize there would be consumers sitting all day, either on their phone or computer. They assumed their audience would not be consuming content the same way they always have, and they were right. The standard media patterns were changing dramatically. With extensive work from home policies, this required little driving, which meant less people listening to the radio. All sports were canceled. Movie theaters and box offices closed. Good operators assessed these shifts and looked to other ways to reach their audience. One approach to get in front car buyers was to leverage the promise of Connected TV (CTV). It appears COVID-19 has pushed Connected TV to the forefront for many dealerships. CTV advertising spend increased by 35% in Q2 2020. Dealers learned that advanced targeting tactics can support reinvestment across both linear and CTV to take advantage of increased at-home viewing. The case for CTV advertising in automotive is compelling, especially when considering 1.8 million subscribers "cut the cord" from traditional pay television services to embrace subscription-based streaming services in Q1 2020, and the pandemic prompted a boost in streaming hours. Audience reach is not the only opportunity that is drawing direct response marketers towards CTV.  The great appeal for dealers is the ability to bring all the beloved aspects of digital marketing to the television channel — especially granular targeting, retargeting, and better measurement. There can be little doubt that CTV is here to stay and will become the norm in households across the United States if it isn't already. Yet, while CTV advertising has accelerated in recent months, there are considerable complications for dealerships to overcome. There are over 200 OTT (over-the-top) streaming providers, and CTV devices range from smart TVs and HDMI sticks to gaming consoles and Blu-ray players. All these platforms complicate creative development, tracking ads, gathering performance metrics, and attributing conversions. At Automotive Internet Media we realize the marketing environment has become vast and complex. We offer a dynamic video media service. AIM's Dynamic Video Media including CTV, OTT, Instream, Outstream and YouTube! Benefits of AIM's Dynamic Video Management: Comprehensive platform with CTV, Digital Audio and Programmatic Buying capabilities AIM Strategic Insights (Audience, Competitive trends, Vertical information) We are living in a multi-screen, cross-platform world, AIM Video allows dealerships to follow the viewer regardless of device There is no one-size-fits-all approach to AIM's Video Management, so we continue to test and learn Placement can be pre, mid or post roll in addition to in-banner, in-feed and interstitial We provide the ability to track view and completion rates giving dealers insight into the level of engagement your content is receiving There is no doubt that CTV should be tested and will undoubtedly become a permanent fixture of the marketing mix for most dealerships. However, for dealerships that are still lacking getting serious, highly-engaged shoppers to their website, there is an overlooked digital channel that delivers high quality traffic to your website. That channel is CarClicks Inventory Marketing. Click here to learn more about CarClicks products.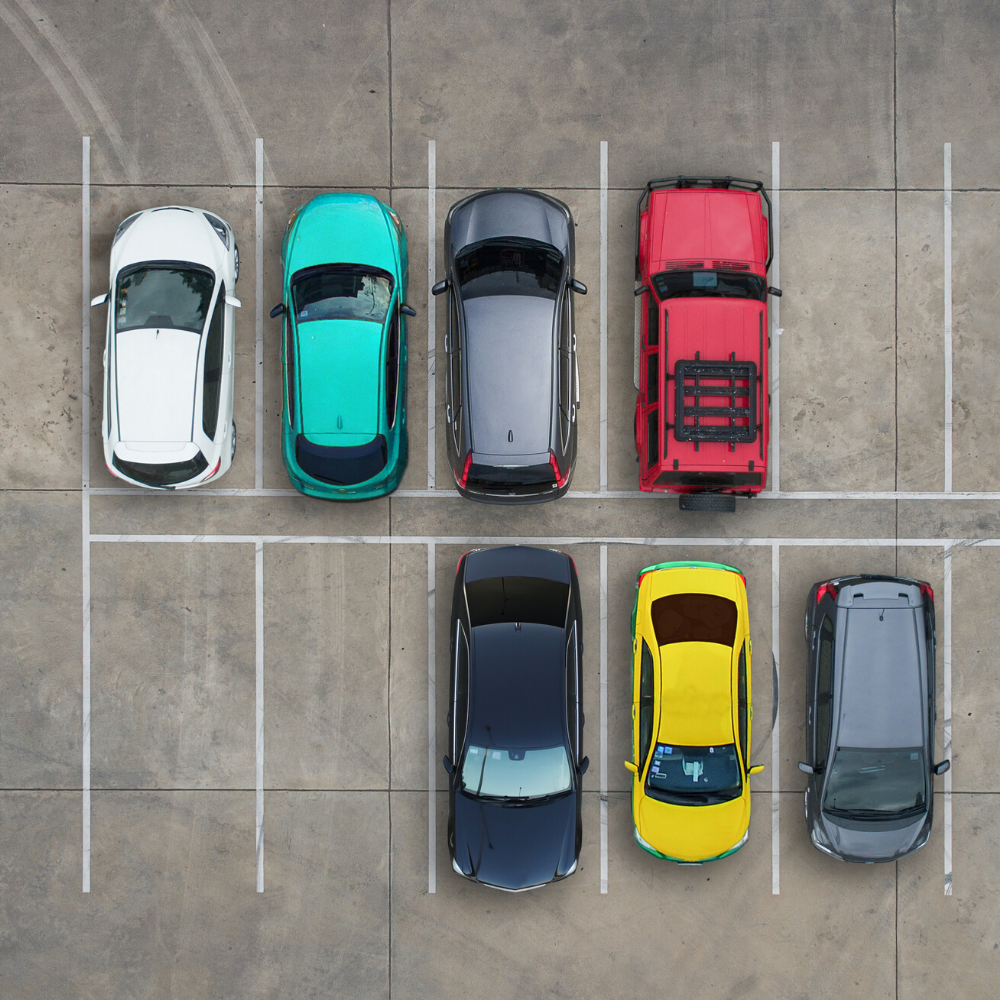 How to Navigate Inventory Issues Caused by the COVID-19 Pandemic
The impact that coronavirus is having on businesses unfortunately comes as no surprise. Auto dealers are seeing the negative impact of this pandemic even though they are considered essential businesses. The current environment is especially affecting independent dealers. One issue that has arisen is a lack of vehicle inventory. Since many OEMs converted their manufacturing plants to produce ventilators, they are now trying to make up for lost time and dealers are asking how can I sell cars I don't have?  USA Today is reporting what many dealers are feeling, popular pickup trucks are getting hard to find. Big truck brands like Ford, Chevy, GMC and Ram dealers are the most seriously impacted. And with these models being typically higher priced inventory, it is hurting dealers' bottom lines even more. So how can your dealership navigate through inventory issues caused by the COVID-19 pandemic? Try Out New Strategies One way your dealership can get past inventory issues is to strategically promote the inventory you do have. Focus on cars that have been on your lot for a long time. AIM's CarClicks Inventory Marketing can connect auto shoppers to your oldest inventory to help increase turn. Another strategy is to pivot and get creative with your marketing of the models that you do have. Since pickup trucks are scarce right now, shift your advertising efforts to vehicles that are not. Try out eye-catching yet cost effective marketing. Promote smaller sized models to millennials using video promoted on connected devices. Having trouble driving sales to your dealership because of the pandemic? Today more than ever, it is especially important to have a strong online presence. When shoppers don't want to come to the dealership themselves, you have to be able to get your vehicles in front of their eyes.  Expanding your online retailing can help you win more customers, making it easier for auto shoppers to browse your inventory online. Setting up video appointments and dropping off the vehicle to their driveway are all steps in the right direction for conquering the negative impact of COVID-19 on your dealership's business.  Ready to combat COVID-19 related inventory issues? Talk to us at (312) 473-0024 today.
Stay up to date,
with Auto Digital Marketing